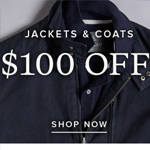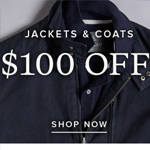 Rodd and Gunn
Save $100 on Jackets
A fabulous offer from Rodd and Gunn - Jackets are $100 off at Rodd and Gunn
Rodd and Gunn have got their incredible jacket range reduced by $100. Providing plenty of warmth for winter, the Rodd and Gunn jacket range includes classics like the Breve Street jacket. This is a very dapper alternative to a trench coat and also suitably simple for causal weekends. It's a fully padded jacket with diamond quilting on the body and sleeves and it features a hidden hand-warmer behind the front pockets. Mmmm... snuggly.
You don't need a Rodd and Gunn Voucher Code for this deal. Rodd and Gunn Jackets are all $100 off for a limited time.  You can just click through to Rodd and Gunn below, browse the jacket range, choose your size and buy!  Awesome.
Also at Rodd and Gunn you get their great Free Shipping deal for New Zealand and Australia with Rodd and Gunn when you spend literally ANYTHING!
Incredible. Click through and get your Rodd and Gunn Jacket today at $100 off - No Rodd and Gunn Coupon code needed!