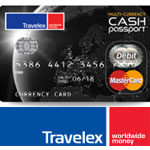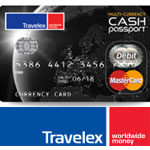 Travelex Currency Card
Get an even better exchange rate* when you order over $2000 AUD!
Travelex have a great prepaid currency card that makes spending your travel money more simple. Manage your holiday money simply and securely with the Travelex Multi-currency Cash Passport in October 2016. Get great rates when you buy the award winning currency card from Travelex Australia.
This smart prepaid currency card can be loaded with your choice of 10 available currencies, including euros and US dollars, and can be used just like a debit or credit card wherever you see the MasterCard®Acceptance Mark and you can lock in your rate each time you load or reload your card or move money between currencies and take control of your money when you're abroad.
Your Travelex Multi-currency Cash Passport can be loaded with any of the following 10 currencies:
Euros (EUR)
Swiss francs (CHF)
US dollars (USD)
New Zealand dollars (NZD)
Australian dollars (AUD)
Canadian dollars (CAD)
Turkish lira (TRY)
South African rand (ZAR)
United Arab Emirates dirham (AED)
British pounds (GBP) – (NOTE: not available to buy on Travelex.co.uk)
Buy your award winning Travelex Cash Passport online in October 2016 and get these great deals without any Travelex Promo Codes, Travelex Coupons or Travelex discount codes. The Travelex Cash Passport is a great product and endorsed by Canstar as a 5 star multi currency cash card! Check it out!